National Pumpkin Cheesecake Day is one of the most holy holidays – at least for foodies. In honor of this auspicious day, we've collected the best of the best of the world's pumpkin cheesecake recipes, so all you have to do is decide which to make first. And then second. And then…you get it.
Flickr user Caito Potato
Booze + pumpkin + cheesecake = everything I ever needed.
Flickr user Jerk Alert Productions
No, seriously. Yeah. I know you're drooling.
Flickr user flippinyank
Seriously guys, no waiting for this masterpiece.
4. Gluten-Free And Vegan Pumpkin Cheesecake
Photo credit: Unconventional Baker
You thought a gluten-free cheesecake would be gross. You could not be more wrong.
Photo by Uncle Jerry's Kitchen
So. Yeah. This one's mine.
6. Dark Chocolate and Pumpkin Cheesecake
Photo credit: cdkitchen
One you go chocolate and pumpkin, literally everything else is disappointing.
Photo credit: Taste and Tell
Pumpkin pie on steroids. So good it basically should be an actual crime.
8. White Chocolate Mousse Cheesecake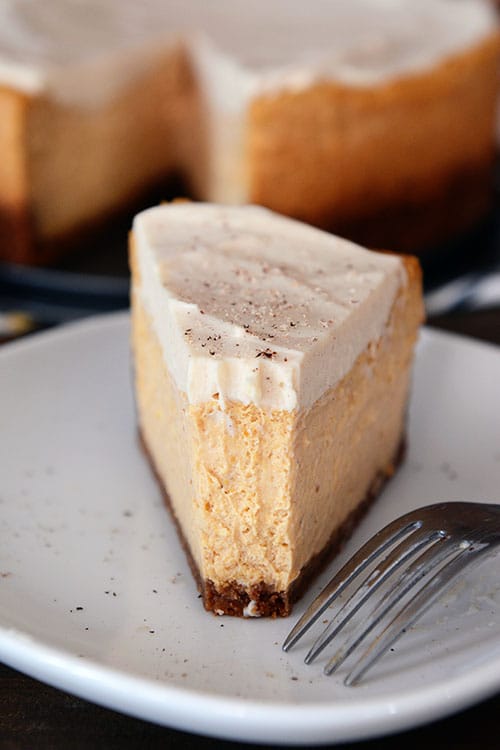 Photo credit: Mel's Kitchen Cafe
So fancy. Until you get caught shoveling it into your mouth at 2 am.
9. Pumpkin Grand Marnier Cheesecake with Cranberry Syrup
Photo credit: EdibleEtcetera
The best part of Thanksgiving and cheesecake. THIS is what I'm thankful for.
Photo credit: But I'm Hungry
I can't even decide what my favorite part of this is. Too bad, gotta eat 'em all.
What's your favorite pumpkin cheesecake recipe? Tell us in the comments below!